Home security guide: How to identify your risk level and finance the investment
At Bankrate we strive to help you make smarter financial decisions. While we adhere to strict editorial integrity, this post may contain references to products from our partners. Here's an explanation for how we make money.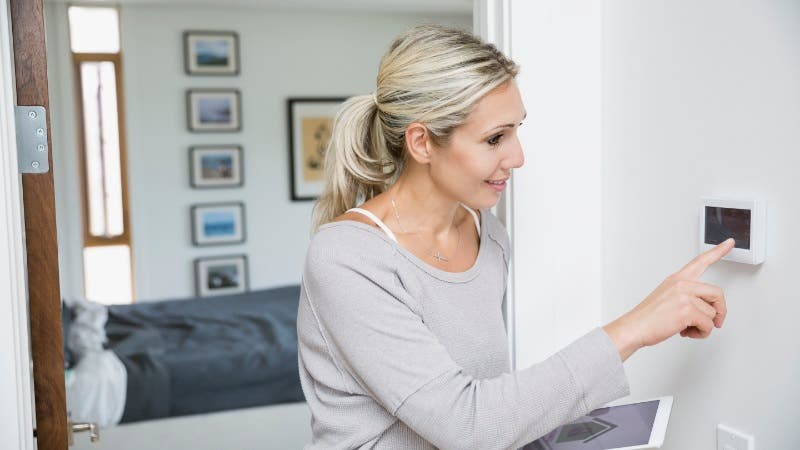 A home burglary happens every 23 seconds in the U.S.
If that sounds like a lot, it is — but it still pales in comparison to the burglary rates of years past. In fact, FBI data shows that burglaries have dropped by 37% since 2008, and property crimes overall? Those are down a whopping 50% since 1993.
But that decline didn't happen by accident. One reason for the drop in property crimes is the increasing accessibility (and affordability) of home security devices. From self-installed video doorbells and phone-activated alarm systems to motion-detecting lights and even just better privacy fences, the number of home security options are now endless.
Since these items can often improve both the value and appeal of real estate in today's market, there's even more reason to explore security options as a homeowner.
Are you thinking of increasing the security and privacy of your property? This guide can help.
The value in home security
Obviously, the big benefit of installing a home security device is that it can better protect your home, your belongings, and your loved ones. But on top of this, your home security choices could enhance your ability to sell your property for top dollar down the line.
If you're making big security changes, like upgrading to a taller, more secure fence or installing a full-scale security monitoring system, you can also increase the perceived value of your home, making it more marketable and easier to sell.
As an added benefit, upping your home's security might also qualify you for certain home insurance discounts, so check with your insurer once installations are complete.
How to determine if your home is at risk
Any home is vulnerable to break-in, but certain properties present more risk than others. For example, statistics show that homes in rural states see more crime than those in more metropolitan ones.Properties in New Mexico, Mississippi, Louisiana, Oklahoma, and Arkansas have the highest rates of burglary in the country.
Additionally, burglaries are more common in the middle of the day and in the summer months. If your home is regularly left unattended during these time frames, your property may be at higher risk. You also might want to consider your neighborhood crime rates, as well as the belongings you have in the home. If you live in a particularly high-crime area or keep cash, high-dollar jewelry, electronics, or other valuables on the property, taking extra security measures can be a smart way to protect your investment.
Fortunately, if you are going to take that extra step to protect your home, you have lots of options. Let's break down a few now:
Physical security measures
There are a number of easy, low-cost changes you can make to your doors, locks, and other entry points to make your home more secure.
Some of these include:
Hardwood or reinforced doors – Solid wood doors or doors reinforced with metal are your best choices for preventing a break-in. Make sure you add one at both the front and back entrance.
Adding a deadbolt lock – Deadbolt locks can't be forced to open as traditional, spring-bolt locks can. They're typically affordable and fairly easy to self-install, too.
Installing motion-detecting lights – These turn on when someone enters their range and can be good at scaring off thieves in the dark of night. Make sure you install them so they're pointing at walkways, driveways, doors, and any other potential entry points.
Adding a storm door – A storm door adds an extra barrier to entry for a thief. You can also add extra locks to up your security even more.
Adding a reinforcement plate – Reinforcement plates help prevent burglars from kicking in your door. They're easy to install (you only need a drill and some screws) and cost just a few dollars.
Installing additional window devices – Adding pin, key, or wedge locks to your windows can make it harder for burglars to enter through this route. You can also add sensors that chime when opened, or insert a bolt or rod that blocks some of the window track, thus limiting how far it can open
Technological security measures
Thanks to advances in technology, there's a slew of devices you can use to better control, monitor, and secure your property. Many of these even allow for remote use via a mobile phone or tablet app.
Some technology options you might explore are:
A video doorbell – Video doorbells help you monitor who approaches your property, as well as who rings the doorbell. Many also allow you to speak through the device remotely and record your front-door interactions for later playback.
A security system – You can also get full-scale security systems that help you safeguard all entry points, including windows, doors, your garage, and more. These are typically controlled by a main keypad in your home, though many come with mobile apps as well. Many of these systems employ a central monitoring company.
Camera systems – Cameras positioned at your front stoop, back patio, and driveway can help deter potential burglaries, There are motion-detecting options, live/24-7 systems, and even fake cameras you can opt for, depending on your budget.
Smart locks – High-tech locks can help you better protect your property, as well as enable remote locking and unlocking capabilities. Just make sure you choose a deadbolt-style one that can't be manipulated or kicked in.
Outdoor security improvements
There are a number of exterior changes that can increase the security of your property as well. These include things like:
Installing a privacy fence or privacy wall – If your yard is fence less or you have chain-link or another low-style fence, upgrading to a 6- or 8-foot privacy fence can increase security immensely.
Getting creative with your landscaping – Intentional landscaping can help keep burglars out, too. Consider adding thick, hard-to-traverse shrubbery around any windows, and use tall trees and foliage to create a living fence of sorts.
Putting up an alarm monitoring sign – Having a security company's sign in your yard can serve as a deterrent to thieves. Even if you're not able to afford a full alarm system or constant monitoring, head to Amazon and snag a faux monitoring sign for extra safety.
Getting a dog – Finally, if you're a fan of furry friends, consider adopting a dog to help better protect your home. Sometimes, even the mere sound of a dog can send burglars running for the hills.
Financing your home security updates
Protecting your home and improving its marketability will come at a price — but that doesn't have to mean draining your bank account and spending those life-savings. There are many low-cost ways to up your home's security, as well as a few financing options that can help lighten the load.
For example, you can utilize:
Cash-out refinancing – If you have significant equity in the home, a cash-out refinance can help you tap that and use it toward your security efforts. Given today's low mortgage rates, you may even cut your monthly payments with a lower interest rate.
 Home equity loans and lines of credit – Home equity loans and HELOCs can be an option too if you have equity in your property. Just remember that these are second mortgages and will require monthly repayment.
Personal loans – A personal loan might be an option for financing your security upgrades, though it will come at a higher interest rate than the other options on this list. Just make sure you have good credit before applying, or your rate will be even higher.
Credit cards – Credit cards can be a good option, especially if you use ones that offer cash-back rewards or discounts at home improvement stores.
Just remember that in the end, it's important you choose your projects wisely. Focus on ones that either improve your home's marketability or increase its appraised value. This will ensure a return on your investment when it comes time to sell the house.